Bringing Vintage Back to Maine
After a losing expedition into finding my own felt crewneck, I decided to make my own! Small batch production in our Brunswick, Maine studio by one of our three expert craftswomen!
- Explore it here -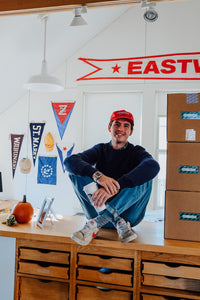 About us (me?)

Founded out of a need for t-shirt refinement, Paul Landry Co. emerges as the comfiest, most durable American apparel a prepster can get their claws on. Inspired by the dapper stylings...



Read more!
Blog
---
Before I begin, I must admit, I had a tough time trying to figure out how to start my year in review. After much thought, I decided I wanted to...
Ah the Boothbay peninsula. Seemingly the birthplace of the Schooner, the busiest little port in Down East and the largest harbor north of Boston...where to start.  Well, before diving too...
You know it, I know it …. Exploration is not to be rushed. That being said, when I only have a few days between moves (Miami via Chicago), I decided...
Interested in private label?
We know just how much everyone loves our ultra soft crewnecks and tee's, but did you know we have the expertise to make all sorts of customized pieces? With minimums starting at just 12 pieces per style, you could quickly be on your way to your own exclusive collection! Reach out to us via our contact form to learn more!